Just got back from seeing Hitchhiker's Guide and I did really love it. I was worried from all the reviews I read that it wasn't going to live up to the books - but I have to say I think they captured the tone of Douglas Adams' books very well. I decided to go by myself 1) because I am still kind of crabby and 2) because the Hitchhiker books mean so much to me that I didn't want someone along who would break the mood for me. And it
was
nice to get done with the movie and be able to drive home in silence and just be able to think.
Ken went down to Mass this morning. Next weekend the is Green Street Music Series #7 at the
Lucky Dog
and they are having practice tomorrow. The show is "a celebration of the music of Alice Cooper, Aerosmith, and ACDC." Should be a hoot. We're both going down next weekend for the show and I think I will be using my electric guitar sling purse. Ever so fashionable!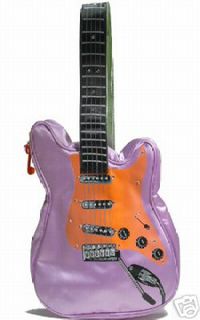 Guitar Purse

Might even wear my Cleaves which I need to get a picture of too.
Anyhow - time to sleep I did some yard work this morning - but never got as much done as I really wanted although I have some nice blisters and many sratches to show for it. If the rain holds off I would like to get a good bit more done tomorrow.